CHECK OUT OUR NEW WEBSITE FOR PURCHASES
Buy a Marquee
Stretch Tent Marquees are available for sale to Stretch Tent Partners or to companies / venues that will have repeat usage. They require specialist training and training will be given on how to erect the structure.
Stretch Tents NZ Ltd offer the latest technology MultiStretchFR™ 'bedouin style' freeform tents, marquees, canopies and party structures. Our marquees are strcuturally certified, waterproof, fire retardant (they comply with NZ Fire Standard AS1530.2 for membrane structure, making them safe for any event or party) and UV resistant.
As manufacturers, we can custom make these marquees.
For corporates who want an event structure, these can be branded.
For event holders / venue owners who need an aesthetic, cost-effective marquee.
Stretch Tents cost less than traditional marquees, are so much better looking and can go almost anywhere! It should be noted that Stretch Tents are not designed to be permanent structures.
For large orders (over 1000sqm) we can create tents with almost any colour top coat (the inner fabric is usually white).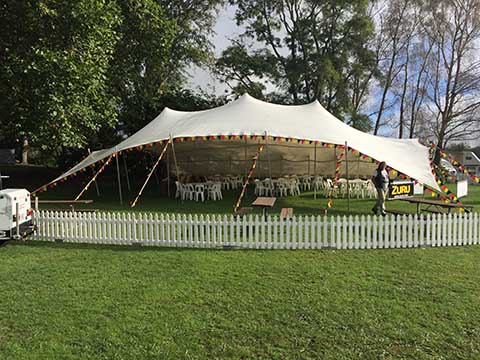 Freestanding Stretch Tents
Can be rigged all sides up, three sides up, two sides up or all sides down. This gives you the ability to close your tent up if the weather is inclement or open it up if you wish to incorporate the surrounds. You don't need a flat surface; they can cover areas traditional marquees cannot, maximizing the space available.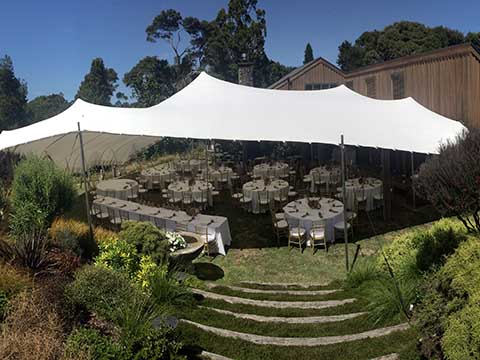 Can be erected off existing buildings. The unique rigging system allows us to sit our tents onto your roof providing a rain proof solution between the Stretch Tent and your house structure. The advantages of this is that you can extend an existing area, creating more possibilities, such as a dance floor, catering zone or extra seating.
Own a Stretch Tent Business
An exclusive territory agreement
Full training to quote, erect, break down, store and maintain the tents
Superior MultiStretch FR™ tents supplied at discount
Use of the 'Stretch Tents' name
An 'up-to-the-minute' website to generate enquiries and sales leads
Relevant 0800 number calls re-directed through to you
Marketing collateral.
A business model developed from real business experience in this market
The advantage of significantly lower tent costs
Full phone support
Remember, Stretch tents create eventing spaces that were previously not possible, opening up the market to locations that were previously unusable.
We don't just compete in the marquee market, we have created a whole new market.
Areas available in New Zealand
Northland
Taranaki / Manawatu
Marlborough / Tasman / Kaikoura
Canterbury
Call directly
Jon Tuohey
Mobile:+64 21 840136
Email: jon@stretchtents.co.nz
"Stretch Tents are amazing! Not only is the end product super stunning but the staff are amazingly helpful with anything wedding related. Big thanks to you all! We got so many comments about how good the tent looks."
– ANNA SMITH
"Stretch Tents are amazing! Not only is the end product super stunning but the staff are amazingly helpful with anything wedding related. Big thanks to you all! We got so many comments about how good the tent looks."
– ANNA SMITH
"Stretch Tents are amazing! Not only is the end product super stunning but the staff are amazingly helpful with anything wedding related. Big thanks to you all! We got so many comments about how good the tent looks."
– ANNA SMITH
| | |
| --- | --- |
| Home | Weddings |
| Our Marquees | Occasions |
| Purchases | Corporate |