Welcome to Stretch Tents Central
Stretch Tents Central have been in operation since 2009 and have proved our standing in the industry by winning the Outstanding Theming and Hire category at the Wedding Industry Awards. Based in Tauranga we service the entire Bay of Plenty and Waikato. Offering stunning Stretch Tent marquees, quality furniture & lighting hire to create memorable weddings and outstanding events. Service is of upmost importance to us and our entire team is passionate about our product and your event. Call us today for a no obligation quote and let us help you make your event a success!
Our Tents
We stock a wide range of tent sizes that can either be installed freestanding on grass or as a canopy attached to a building. Our tents can cover 30-1000 people with the ability to join together to create large spaces. They are fully waterproof, fire retardant and engineered for New Zealand conditions. To assist in sizing a tent for your next event check out our tent sizing and capacity chart and for further information view our Brochure. To ensure you choose the correct size we do recommend consultation with one of our team.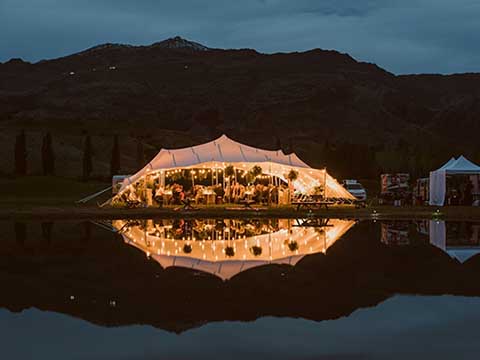 Equipment & Lighting Hire
We are here to help you with everything you're likely to need to stage a successful event. We have a range of furniture, lighting and flooring options and we also work with a number of industry partners  to source other items for you. We endeavour to make your experience with Stretch Tents a one stop shop! The best thing to do is give us a call. We can discuss your requirements and figure out the best way to meet them. Down load our equipment price list here.
Wedding Options
Give your wedding that intimate and special touch by having it at a place that is special to you. Whether it is at home or at the bach, with the flexibility of a Stretch Tent we can give you protection from the elements at a location of your choice. Our prices are based on a three day hire so there is plenty of time for set up and pack down. Stretch Tents Central have been in operation since 2009 and have helped over 1000 couples create the venue of their dreams, so rest assured you are in good hands.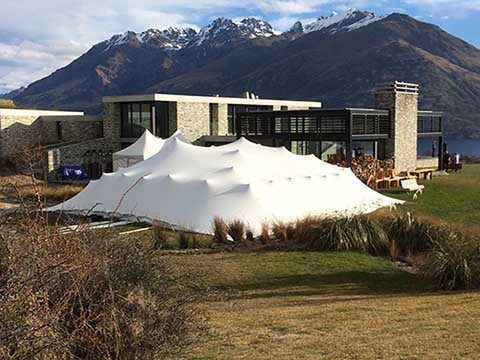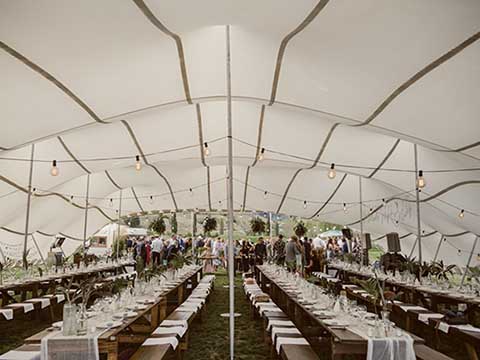 Keeping Cosy
"Four seasons in one day" a common term often used in our little country, and for good reason. A term we are not concerned with here at Stretch Tents as we can make our tents cosy and snug inside, so you and your guests don't need to worry about what the weather is doing outside. Our heaters, draft skirting and fabric wall panels can be added to your Stretch Tent to keep you all warm, while still enjoying the ambience a Stretch Tent brings. Kiwis love the great outdoors so don't let the weather put you off holding your wedding or event under a Stretch Tent.
Our Wedding Packages
At Stretch Tents Central we have a variety of wedding hire packages designed to make planning your wedding easier than ever. We have based our packages on our wooden trestle table set up, however, if you prefer something different give us a call as we are happy to accommodate. The tent sizes in our packages are the most common sizes used for wedding party numbers. If these tent sizes don't fit your space don't despair, we may be able to use different sizes joined together to accommodate your area. Stretch Tents Central are committed to helping you make your event run as smoothly as possible and will do our utmost to accommodate your individual requirements and budget. Download our packages below.
Comes highly recommended! ! Vanessa was an absolute super star to work with nothing was ever a problem. .. her team rigged our tent perfectly how we wanted it and would absolutely use these guys again in a heart beat! Thanks so much made our wedding exactly how we imagined it!
- JOHANNA CORBETT
The stretch Tent team have provided 2 tents of different sizes for parties at our place. The service is awesome and tents amazing to keep out the elements given NZ's fickle weather patterns. One day we expected rain however got boiling sunshine - the tent worked a treat to keep guests cool and out of the heat. These are so much better than traditional marques, softer in appearance and work in those odd strange places where a conventional tent would not.
Highly recommend these guys.
- Matt
I would definitely reccomend Stretch Tents. Efficient, professional and so helpful! We hired a stretch tent for our wedding and from the get-go Vanessa was an outstanding professional! I am hoping to use them in the future when we have another shindig one day!
- REBECCA
Vanessa and the team at Stretch Tents did a great job for our recent wedding. We were so impressed with everything, the tent was fantastic as was the tables and chairs. We had so many comments on how amazing it was. Thanks again for the great service.
- CHARLENE
Stretch tents are amazing! Not only is the end product super stunning but the staff are amazingly helpful with anything wedding related. Big thanks especially to Vanessa!! We got so many comments about how good the tent looks!
- ANNA SMITH